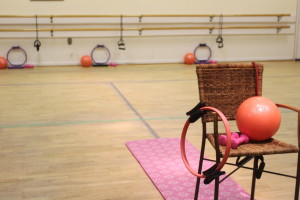 Barre combines the basics of ballet, Pilates, and yoga. No dance experience is needed. It is a fun, low-impact workout targeting those problem areas. It is safe for all ages and body types.
It works to strengthen your muscles and tighten your core, leaving you feeling taller and leaner without adding muscle mass. You will mainly use your own body weight for resistance, but will also use a variety of tools to enhance the workout. The class is set to upbeat music to help keep you motivated.
Come join Becca for this well rounded barre workout. It creates fast results leaving you beautifully toned from head to toe.
Becca McCarthy is a certified instructor of Balancepoint Barre with a strong dance background, she is also certified in First Aid/CPR/AED.
Please make note of December Holiday Schedule:
Zumba – NO Class – Monday December 25th or Tuesday, December 26th
Barre – NO Class – Tuesday, December 26th
Printable Schedule and Calendar:
Weekly Fitness Schedule
2017-2018 Calendar
Balancepoint Barre Schedule (Sept. – June)
| | | | | |
| --- | --- | --- | --- | --- |
| Balancepoint Barre | Adults | Tuesday | 9:00am-10:00am | Becca McCarthy |
| Balancepoint Barre | Adults | Thursday | 6:45pm-7:45pm | Becca McCarthy |
**Note that all equipment is provided (you are welcome to bring a mat if you have one)
 Dress Code
Any fitness, dance attire, or non-constricting, comfortable clothes
Bare feet or Ballet slippers
Fitness Tuition

No Registration Fee
First Visit Only
FREE
Single Class Anytime
$12.00
Fitness 10 Class Card (good for 4 months)
$85.00
Unlimited Monthly Fitness Tuition
(good for all Fitness classes)
$65.00
Unlimited Monthly Balancepointe Barre Only Tuition
$35.00
TO REGISTER:
Fill out the "Try a Class" form
Email us at kbdsinfo@gmail.com
Call us at 603-673-3978
Question about the program?
Email Becca at barrewithbecca@gmail.com
Check out her FaceBook page https://www.facebook.com/barrewithbecca