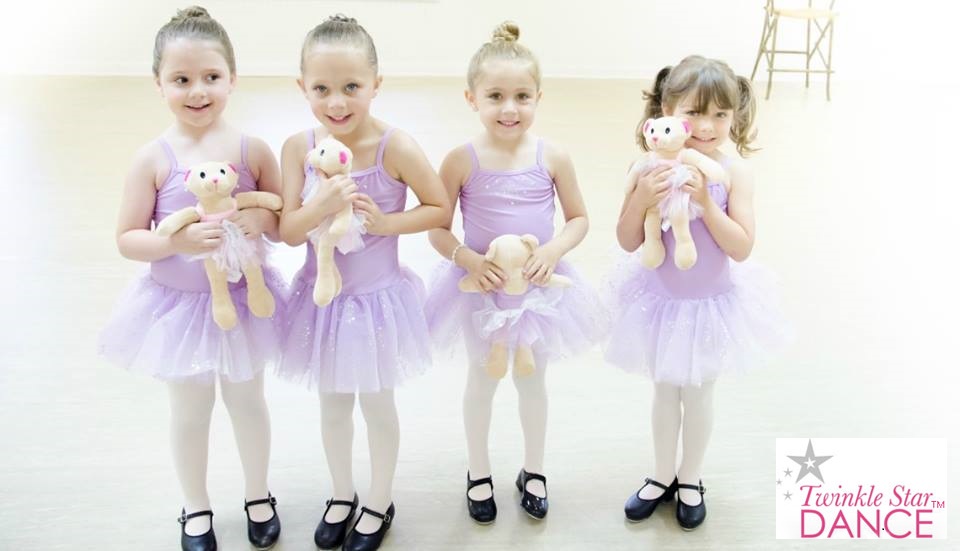 Twinkle Stars Dance Program™
Twinkle Star Dance is an age specific 45 minute class containing ballet, tap, creative movement and tumbling. The purpose of the class is to introduce young dancers to the two styles of dance and inspire movement and creativity within a positive environment. Dancers will also learn basic steps and terminology in ballet and tap. For example, all dancers will learn what a "plie" is and how to demonstrate one.  Students will use the ballet barre to learn traditional ballet technique. Tap will combine the study of rhythm, precision and fluidity of movement. creative movement will include simple isolations, turns, jumps and leaps.  The use of fun, age appropriate music engages the young dancers' minds and bodies. The use of props such as maracas, flowers, or scarves for the "freeze dance" makes the end of class the most fun!
Students should meet the minimum age requirement of the class by September 30th. For Example: If a child has already had their fourth birthday we generally recommend taking the 4-5 year old class, etc. If any questions, please speak with instructor.
Our school year runs September – June. A student may join at any time from September through January 24th if there is space available.
Dress Code:
Why is there a dress code for the Twinkle Stars dance program at Kathy Blake Dance Studios?
The simple Twinkle Star pink or purple leotard and tights make it possible for the instructors to see the dancer's bodies so they can make the proper corrections.

Male students wear a black t-shirt and black sweatpants (these items are not available through the studio).

Young dancers are often distracted by their own dancewear. Large skirts and/or tutus become the dancer's focus instead of the instructor.

Learning to dance and work together as a team can be more easily achieved by removing the distraction of different dancewear.

Instructors are able to choreograph dances more effectively when the dancers are dressed the same.
Where can we purchase our dancewear?
All twinkle star class attire and shoes are required to be purchased through the studio. Our shoes are the color and style we use in our recitals, so it is better to have the correct items at the beginning in order to avoid having to purchase shoes again.