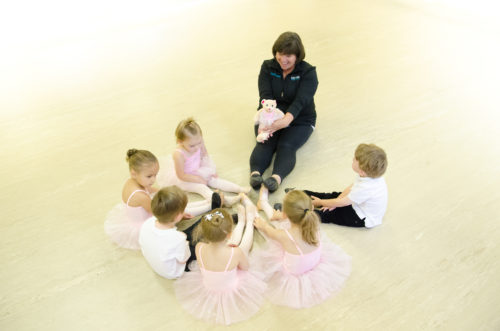 Learn and Grow with our Preschool Dance Program

New Curriculum added to our award winning preschool program: We are excited to announce that we are integrating the Twinkle Star Dance™ curriculum into our fun and educational baby ballet and tap and ballet classes for dancers ages 2-6. Miss Connors and Miss Theresa are excited to share all that they have learned during their summer training with this nationally known dance curriculum.
A great dance education for preschoolers balances structured dance curriculum with fun, engaging activities. Have your child experience what makes our classes great including nurturing teachers and a program that brings out each dancer's strengths.  We are excited incorporate the Twinkle Star Curriculum into our preschool dance classes.
The Baby Ballet class is a magical introduction to dance for the 2-3 year old child. A fun filled half-hour class that engages the child in age appropriate activities incorporating drama, music, props, educational coloring pages along with the excitement of basic dance steps, creative movement, and vocabulary.
Is your child ready for Baby Ballet?
A dancer must have had their 2nd birthday by September 30th
A dancer must gladly separate from their caregiver and follow the loose structure of the class
If your child is not ready to separate they will thrive in our "Baby Dance with Me" Program
A student may join at any time from September through January if there is space available
Visit this page for more information on what to wear to class